AN INTRODUCTION TO
CIRCULAR DESIGN

WHY SHOULD YOU GET IT?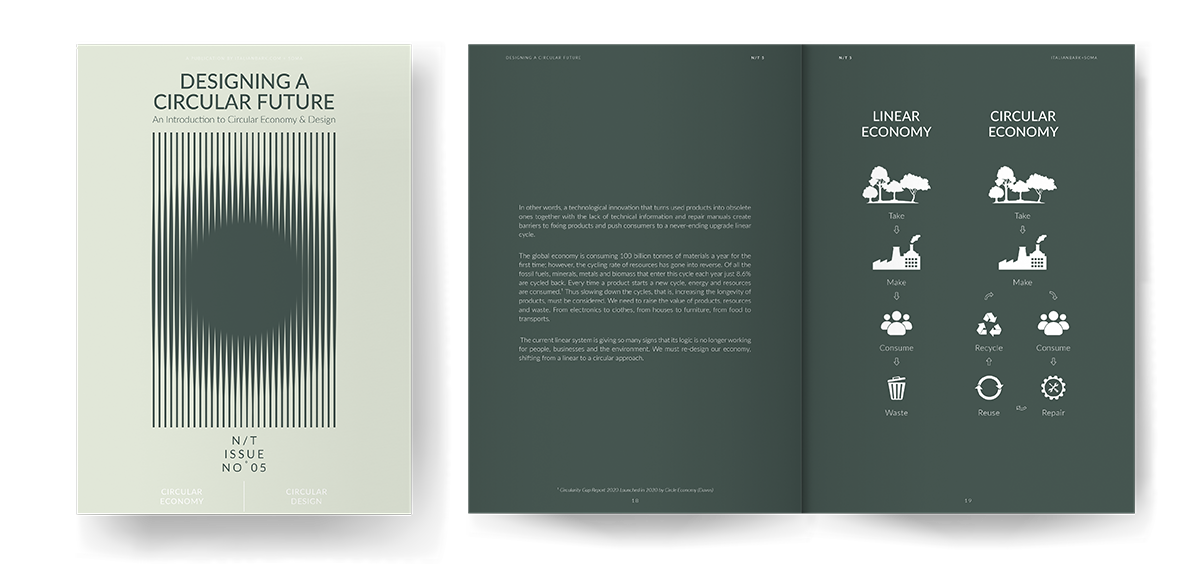 This e-book summarises the extensive research our editorial team has been doing on the circular economy and circular design since 2017. We could not anticipate how fast these themes would become crucial to our lives and survival.
At this very moment the world is living in times of uncertainty due to the coronavirus pandemic. While we are all trying to make sense and adapt to this new reality, our only assurance is that "no man is an island." We are all in this together! And this is true for both the and for the current environmental emergency.
The planet is urging us to re-design, re-think and re-purpose the way we produce and consume. The only possible future is indeed circular, and there is no turning back. Our purpose with this e-book is to sparkle conversations about the circular economy and circular design to inspire professionals and brands in the creation of a sustainable future.
We believe that together we can find more meaningful and sustainable ways to inhabit our planet, especially in a post-COVID world with all the challenges the future holds.
With more than 150 pages the e-book will guide readers through the logic of the linear economy versus the circular economy; the circular economy main principles; the circular design strategies; innovations from European design fairs & events, a series of exclusive interviews with designers and companies working with circular design principles.
WHAT WILL YOU GET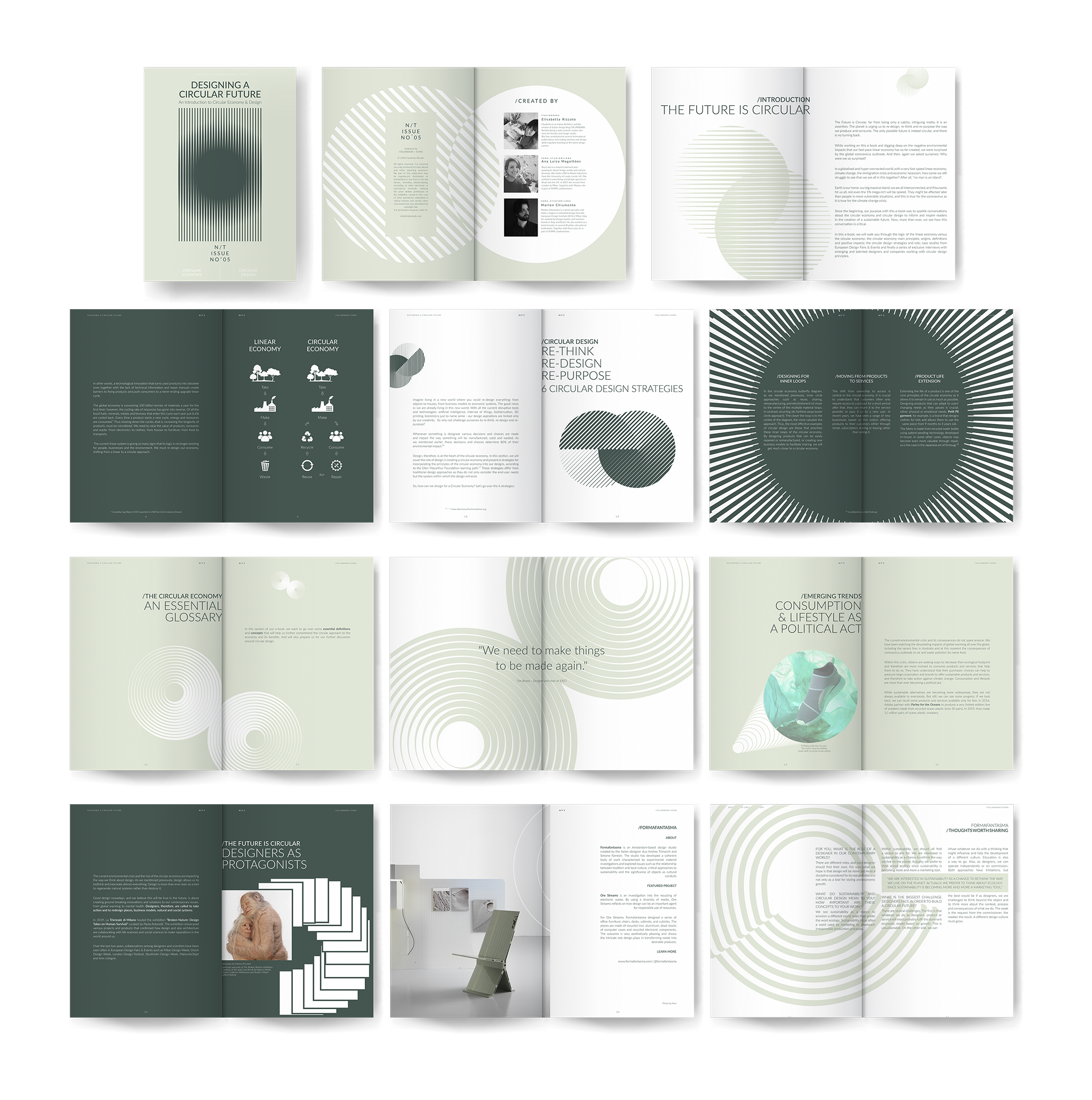 / KEY CONCEPTS & PRINCIPLES WITHIN THE CIRCULAR ECONOMY
/ AN ESSENTIAL GLOSSARY FOR THE CIRCULAR ECONOMY
/ CIRCULAR DESIGN OVERVIEW & STRATEGIES
/ 15 EXCLUSIVE INTERVIEWS WITH DESIGNERS
/ CASE STUDIES FROM BRANDS & DESIGNERS
/ MORE THAN 150 PAGES & 7000 WORDS
CURIOUS? CLICK HERE FOR A SNEAK PEEK
OUR E-BOOK IS FOR YOU IF

/ YOU WORK IN THE DESIGN INDUSTRY
and want to be inspired and stay updated with the latest news and innovations regarding the circular economy and design

/ YOU WORK WITH COMMUNICATION
in the field of design and are always looking for relevant content

/ YOU RESEARCH THE CIRCULAR ECONOMY & DESIGN
but feel overwhelmed with so much information and need a framework to organise and validate your impressions

/ WANT TO STAY UP-TO-DATE
with the current and future state of interior and design industries and its relation with the circular economy

OUR E-BOOK ISN'T FOR YOU IF

/ YOU ARE LOOKING FOR AN ACADEMIC E-BOOK
our e-book draws from academic studies and includes various theories, but it is mainly focused on how these take shape on design and interior products and services
/ YOU HAVE NO INTEREST IN THE CIRCULAR ECONOMY
we are sure you will be fascinated by this concept once you learn more about it. So, maybe you should still get the e-book
/ YOU DON'T BELIEVE IN A CIRCULAR FUTURE
we will probably manage to convince you. So, maybe you should still get the e-book
/ YOU DON'T LOVE DESIGN
is it possible?

Frequently Asked Questions
How does it work?
Once you have purchased your e-book here, you will receive an email with your teachable account within 24 hours. Please remember to check also in your spam folder! Once you go to your account you will be able to download the trend e-book as a .pdf file.
Can I share my login with friends and co-workers?
When you purchase your e-book, you get access to download it on teachable and this access is for one user only. We'd be absolutely thrilled if you recommend the e-book to your friends and co-workers, but they would need to pay for it. The way we make this e-book affordable is by having multiple purchases, so please be mindful!
Is there any way to get a discount?
We are regularly launching some special deals on our newsletter, make sure you subscribe. Go to free guides page and subscribe today! You can also subscribe to our 1-year membership and have access to all our e-books, trend webinars, reports, and much more for a great deal.