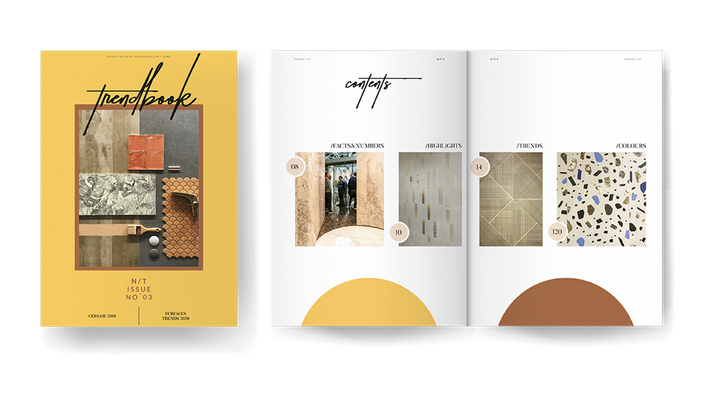 SURFACE DESIGN E-BOOK
THE LATEST TRENDS & INNOVATION FOR 2020-2021
SURFACE DESIGN E-BOOK

WHY SHOULD YOU GET IT?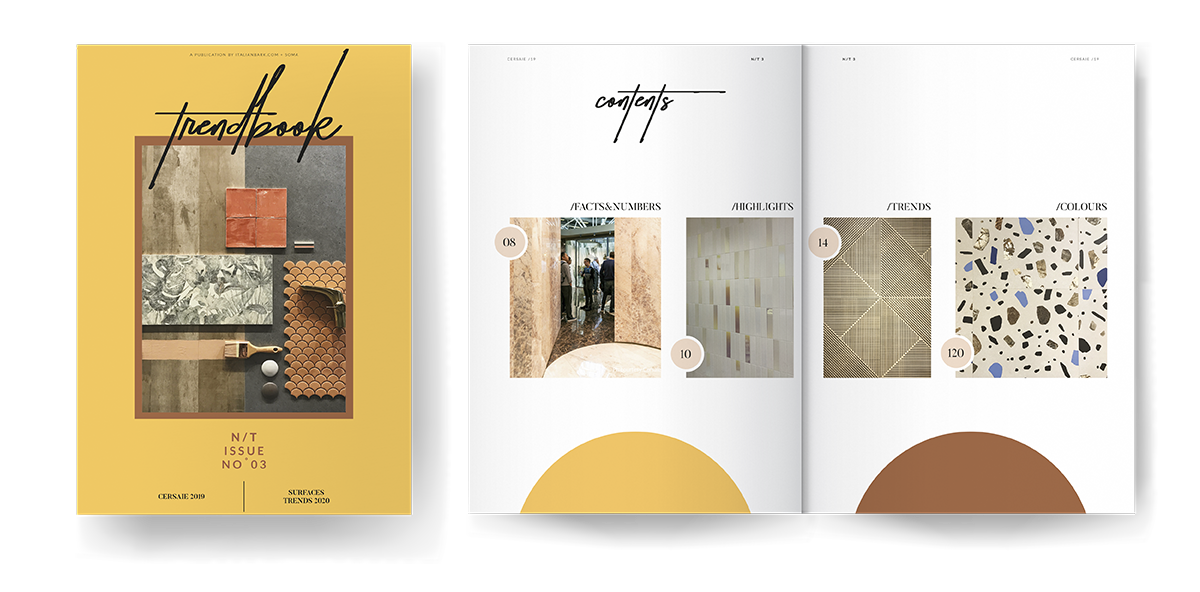 Our trend e-book is a publication featuring the latest surface design trends and innovations from Cersaie - the International Exhibition of
Ceramic Tile and Bathroom Furnishings.
The exhibition takes place every September in the city of Bologna, Italy, and is considered the leading international event for designers of ceramics and other surface coverings, as well as bathroom furnishings.
In its 37ª edition, Cersaie drove a total of 112,340 visitors, 47.2% of whom were foreign visitors, and showcased 889 exhibitors from 40 different countries, with a total of 342 non-Italian exhibitors.
With more than 135 pages, the e-book presents the 10 top trends from the surface industry, including a chapter dedicated to colours, beautiful and innovative materials and products from well-known brands and designers and more than 200 exclusive images taken by us.
The publication is totally independent, non-sponsored and carefully
created by our editorial team.
WHAT WILL YOU GET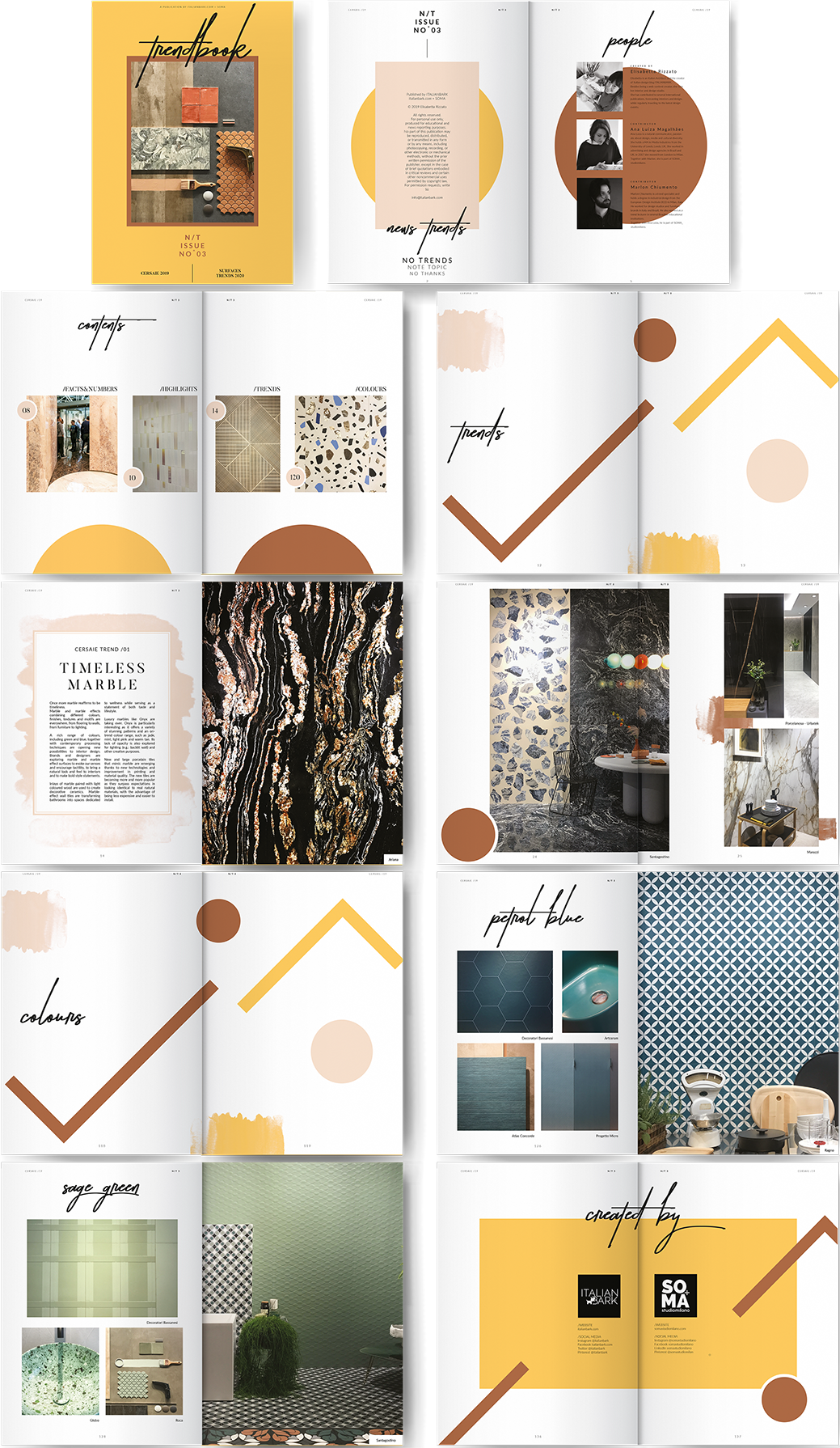 /THE TOP 10 SURFACE DESIGN TRENDS
/LATEST SURFACE COLOURS + MATERIALS + PATTERNS
/PRODUCTS FROM MORE THAN 40 BRANDS
/MORE THAN 200 ORIGINAL PHOTOS
/MORE THAN 135 PAGES WITH AROUND 2000 WORDS
CURIOUS? CLICK HERE FOR A SNEAK PEEK
OUR E-BOOK IS FOR YOU IF

/ YOU WORK IN THE DESIGN INDUSTRY
and want to be inspired and stay updated with the latest news and trends on interiors and design

/ YOU WORK WITH COMMUNICATION
in the field of design and are always looking for relevant content

/ YOU ATTENDED CERSAIE
but feel overwhelmed with so much going on and need a framework to organise and validate your impressions

/ YOU COULD NOT ATTEND CERSAIE
and want to stay updated with the latest surface design trends

/ WANT TO STAY UP-TO-DATE
with the current and future state of the surfaces, interiors and design industries

OUR E-BOOK ISN'T FOR YOU IF

/ YOU ARE LOOKING FOR A BOOK IN ITALIAN
or in any languages rather than English, but please note that the e-book is very easy to read for non-English speakers as there are plenty of images

/ YOU DON'T LOVE DESIGN
Is it possible?
Frequently Asked Questions
How does it work?
Once you have purchased your trend e-book here, your will receive an email with your teachable account within 24 hours. Please remember to check also in your spam folder! Once you go to your account you will be able to download the trend e-book as a .pdf file.
Can I share my login with friends and co-workers?
When you purchase your e-book, you get access to download it on teachable and this access is for one user only. We'd be absolutely thrilled if you recommend the trend e-book to your friends and co-workers, but they would need to pay for it. The way we make this trend e-book affordable is by having multiple purchases, so please be mindful!
Is there any way to get a discount?
We are regularly launching some special deals on our newsletter, make sure you subscribe. Go to free guides page and subscribe today! You can also subscribe to our 1-year membership and have access to all our e-books, trend webinars, reports, and much more for a great deal.